ICTP-SAIFR Scientific Bulletin #20, October – December 2017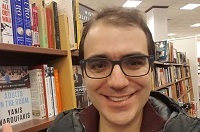 ICTP-SAIFR professor awarded international prize

Pedro Vieira, joint Isaias Raw professor at ICTP-SAIFR and Clay Riddell Paul Dirac professor at Perimeter Institute, was announced in December as co-winner of the 2018 Sackler Prize in the Physical Sciences for his groundbreaking contributions to new developments and applications of quantum field theory. The prize comes with an award of 100,000 US dollars and will be shared with Zohar Komargodski from Weizmann Institute and the Simons Center for Geometry and Physics.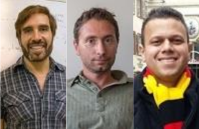 ICTP-SAIFR Visiting Fellow Program

ICTP-SAIFR initiated in October 2017 a new two-year "Visiting Fellow" position for young faculty at other institutions in Latin America who would like to spend time at ICTP-SAIFR. Current visiting fellows include (from left to right) Mario Leandro Aolita (UFRJ, quantum information), Riccardo Sturani (IIP Natal, gravitational waves) and Farinaldo Queiroz (IIP Natal, astrophysics).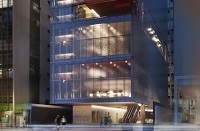 New ICTP-SAIFR program at Instituto Moreira Salles

In 2018, ICTP-SAIFR will initiate an outreach program at the new Instituto Moreira Salles building in downtown São Paulo. The monthly program for the first semester of 2018 will be called "Science in Dialogue: Physics and Art" and will include discussions on photography, music, beauty and science fiction. More information is available here.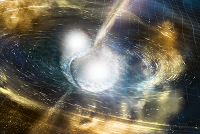 On October 16, the detection through both gravitational and optical waves of a neutron star collision was announced by the LIGO Scientific Collaboration together with members of the Dark Energy Survey (DES) and the Harvard Center for Astrophysics (CfR). ICTP-SAIFR visiting fellow Riccardo Sturani (IIP-UFRN) is a member of LIGO and ICTP-SAIFR vice-director Rogério Rosenfeld is a member of DES.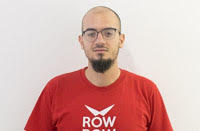 New FAPESP postdoctoral fellow

In October, Antonino Troja (Univ. of Milan, Italy) joined ICTP-SAIFR as a FAPESP postdoctoral fellow. Dr. Troja works in the field of observational cosmology, where he uses angular statistics to analyze the photometric distribution of the galaxies in order to get more reliable cosmological constraints.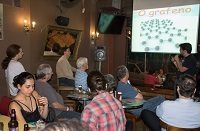 Papos de Fisica is a monthly outreach program of ICTP-SAIFR introducing current topics in theoretical physics to the general public in an informal setting. On October 5, Alexandre Rocha (IFT-UNESP) spoke about the surprising chemical and physical properties of graphene which led to the 2010 Nobel Prize in Physics.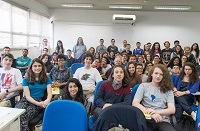 Every Saturday morning from Oct 7-28, ICTP-SAIFR organized a minicourse on topics of cosmology for 80 high-school students from the São Paulo region. In his lectures, Rogério Rosenfeld (ICTP-SAIFR/IFT-UNESP) discussed the structure and evolution of our universe using basic concepts from observational cosmology.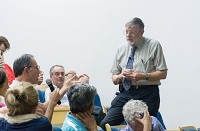 On October 13, William Phillips (NIST, Univ. of Maryland) presented a colloquium entitled "Manipulating atoms with light: from spectroscopy to atomtronics". In 1997, William Phillips earned the Nobel Prize together with Steven Chu and Claude Cohen-Tannoudji for his experiments using laser light to cool and trap atoms.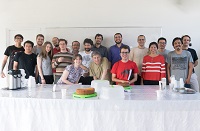 An informal workshop on Cosmology and Astrophysics was held from October 16-17 with the participation of various researchers from different institutes in São Paulo together with ICTP-SAIFR visitors Rafael Batista (Oxford U.), Guido D'Amico (CERN) and Paolo Creminelli (ICTP-Trieste).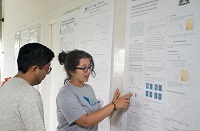 The School on Density Functional Theory and Quantum Information Theory was held from October 23-26 with lecturers Giovanni Vignale (U. Missouri), Christian Schilling (U. Oxford) and Irene D'Amico (U. York). The lecturers discussed fundamental concepts in density functional theory and quantum information theory, as well as the interface between these theories.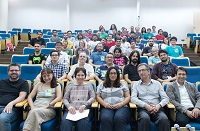 From October 27-28, this workshop organized by V. França (IQ-UNESP), K. Capelle (UFABC), I D'Amico (York U.) and A. Rocha (IFT-UNESP) brought together leading experts on DFT, QIT and scientists working at the interface between the two areas in order to explore synergies between these fields.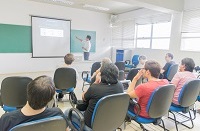 The Post-Workshop on Condensed Matter Physics was held on October 28 and ICTP-SAIFR visitors Aline Ramires (ETH Zurich), Jimmy Hutasoit (Leiden Univ.), Mario Leandro Aolita (UFRJ) and Wilton de Melo Kort-Kamp (Los Alamos) presented seminars related to their research.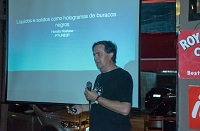 In the November meeting of this monthly program, Horatiu Nastase (IFT-UNESP) presented the seminar "Liquids and Solids as Black Holes Holograms". The speaker discussed applications of holography which relate black holes in string theory to strongly coupled condensed matter systems.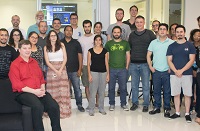 From Dec. 4-15, ICTP-SAIFR, NCC-UNESP, ICTP-Trieste and CODATA organized the CODATA-RDA School of Research Data Science. This activity covered various topics including the principles of Open Science, research data management and curation, large scale analysis, statistics, visualisation, modeling techniques, automation and scripting.