South American Dark Matter Workshop

May 10-12, 2017
ICTP-SAIFR, São Paulo, Brazil
Auditorium of IFT-UNESP
Home
The goal of this international workshop is to explore the state of the art of the Dark Matter field, discussing the latest developments in all branches: theoretical, collider, direct and indirect, and astro. By bringing together the South American and international community we aim to foster new collaborations and new long-lasting partnerships, at a most timely moment in the development of the field.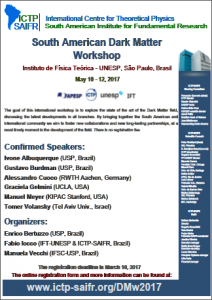 The workshop has no fee, but registration is required at the link below
Registration and abstract submission is now closed.
Confirmed Speakers:
Ivone Albuquerque (USP, Brazil)
Gustavo Burdman (USP, Brazil)
Alessandro Cuoco (RWTH Aachen, Germany)
Graciela Gelmini (UCLA, USA)
Manuel Meyer (KIPAC Stanford, USA)
Tomer Volansky (Tel Aviv Univ., Israel)
Organizers:
Enrico Bertuzzo (USP)
Fabio Iocco (IFT-UNESP & ICTP-SAIFR)
Manuela Vecchi (IFSC-USP)
Program
Photos
Additional Information