II South American Dark Matter Workshop


November 21-23, 2018
ICTP-SAIFR, São Paulo, Brazil
Auditorium of IFT-UNESP
Home
The goal of this international workshop is to explore the state of the art of the Dark Matter field, discussing the latest developments in all branches: theoretical, collider, direct and indirect, and astro. By bringing together the South American and international community we aim to foster new collaborations and new long-lasting partnerships, at a most timely moment in the development of the field. There is no registration fee.
Confirmed Speakers:
Ilias Cholis (Northwestern University, USA)
Francesco D'Eramo (Università di Padova, Italy)
Arman Esmaili (PUC Rio de Janeiro, Brazil)
Azadeh Fattahi (Durham University, UK)
Christopher McCabe (King's College London, UK)
Farinaldo Queiroz (IIP Natal, Brazil)
Cecilia Scannapieco (Universidad de Buenos Aires, Argentina)
Organizers:
Enrico Bertuzzo (USP)
Fabio Iocco (IFT-UNESP & ICTP-SAIFR)
Manuela Vecchi (RUG-USP)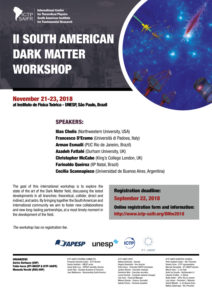 Registration is now open: click
here
to register and submit a talk 
Registration deadline:

September, 22, 2018
The workshop has no registration fee.