ICTP-SAIFR Symposium Public Lectures
Sunday – November 6, 2016
São Paulo, Brazil

Na tarde de domingo, dia 6 de novembro, das 14h00-18h30 no auditório do IFT-UNESP, três físicos de renome internacional apresentarão palestras para o público leigo nas áreas de física das partículas, ondas gravitacionais e informação quântica.  Inscrições estão fechadas por causa de falta de espaço no auditório. Mas no caso de algum inscrito não comparecer antes das 13h45, seu lugar será liberado para pessoas esperando na fila na porta do auditório. As palestras terão tradução simultânea.
Palestrantes:
14h00-15h00
100 years of General Relativity: The enduring legacy of Albert Einstein (PDF) (video)
David Gross (Prêmio Nobel de Física 2004)
Professor de Física Teórica na University of California, Santa Barbara, graduou-se e fez o mestrado na Universidade Hebraica de Jerusalém, em Israel. Obteve o doutorado pela University of California, Berkeley e foi pesquisador e professor nas universidades de Harvard e Princeton. David Gross recebeu o Nobel com Frank Wilczek e David Politzer pela descoberta da liberdade assintótica, uma propriedade da teoria quântica que ajuda a entender o comportamento dos quarks (partícula elementar e um dos elementos básicos que constituem a matéria). Os pesquisadores observaram que, em altas energias, a força de atração entre quarks se torna assintoticamente fraca, isto é, tão pequena que os quarks podem se movimentar livremente.
15h35-16h35
Detecting gravitational waves from black holes (video)
Gabriela Gonzalez (Porta-voz da colaboração científica LIGO)  
Nascida na Argentina, Gabriela González é professora de Física e Astronomia na Louisiana State University. É também porta-voz da LIGO Scientific Collaboration, uma colaboração de institutos e de grupos de pesquisa de diversos países dedicados ao estudo de ondas gravitacionais.
17h10-18h10
Explorando as sutilezas do mundo quântico: De Einstein e Schrödinger à Informação Quântica (PDF) (video)
Luiz Davidovich (Presidente da Academia Brasileira de Ciências)  
Professor titular no Instituto de Física da Universidade Federal do Rio de Janeiro. Foi pesquisador visitante na École Normale Supérieure (França), no Max Planck Institut für Quantenoptik (Alemanha), no Centre d'Études Nucléaires de Saclay (França), na University of New Mexico e na University of California, Santa Barbara (Estados Unidos), no Isaac Newton Institute for Mathematical Sciences (Reino Unido), no Weizmann Institute (Israel) e no College de France (França), entre outros.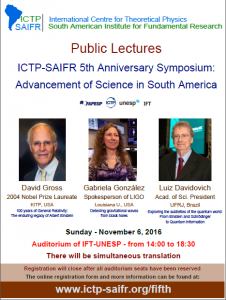 Photos
: