Condensed Matter Theory in the Metropolis


November 12-13, 2018
ICTP-SAIFR, São Paulo, Brazil
Auditorium of IFT-UNESP
Home
The goal of this meeting is to promote collaborations and exchanges between the groups working on hard condensed matter theory in the city of São Paulo and nearby scientific poles, such as Campinas and São Carlos. We also invite a few speakers from other parts of the country to give more breadth to the topics covered by the event. We intend to make it an annual event to strengthen the condensed matter community in the region.
We particularly encourage the participation of students and postdocs. We believe that students and early-career scientists can benefit tremendously from this type of event since they can get exposure to new topics and techniques, as well as find a great opportunity for networking.
There is no registration fee and everybody is welcome to participate.
Preliminary list of topical sessions:
– Computational Modelling of Materials
– Electronic Structure Calculations
– Strongly Correlated Electronic Systems
– Superconductivity
– Topological Phases of Matter
List of Invited Speakers:
Andre de Pinho Vieira – USP São Paulo

Belita Koiler – UFRJ
Caetano Rodrigues Miranda – USP São Paulo

Caio Lewenkopf

– UFF
Cedric Leão – UFABC
Edison Zacarias das Silva – UNICAMP
Eduardo Miranda – UNICAMP
Eric Andrade – USP São Carlos
Francisco Rouxinol – UNICAMP
Helena Petrili -USP São Paulo
Jose Abel Hoyos – USP São Carlos
Jose Carlos Egues – USP São Carlos
Juarez L. F. Da Silva – USP São Carlos
Kaline Rabelo Coutinho – USP São Paulo
Luana Sucupira Pedrosa – UFABC
Luis Gregorio Dias – USP São Paulo

Marcio Varella – USP São Paulo
Maurice de Koning – UNICAMP
Tobias Micklitz – CBPF
Organizers:
Aline Ramires (ICTP-SAIFR/IFT-UNESP)
Alexandre Reily Rocha (IFT-UNESP )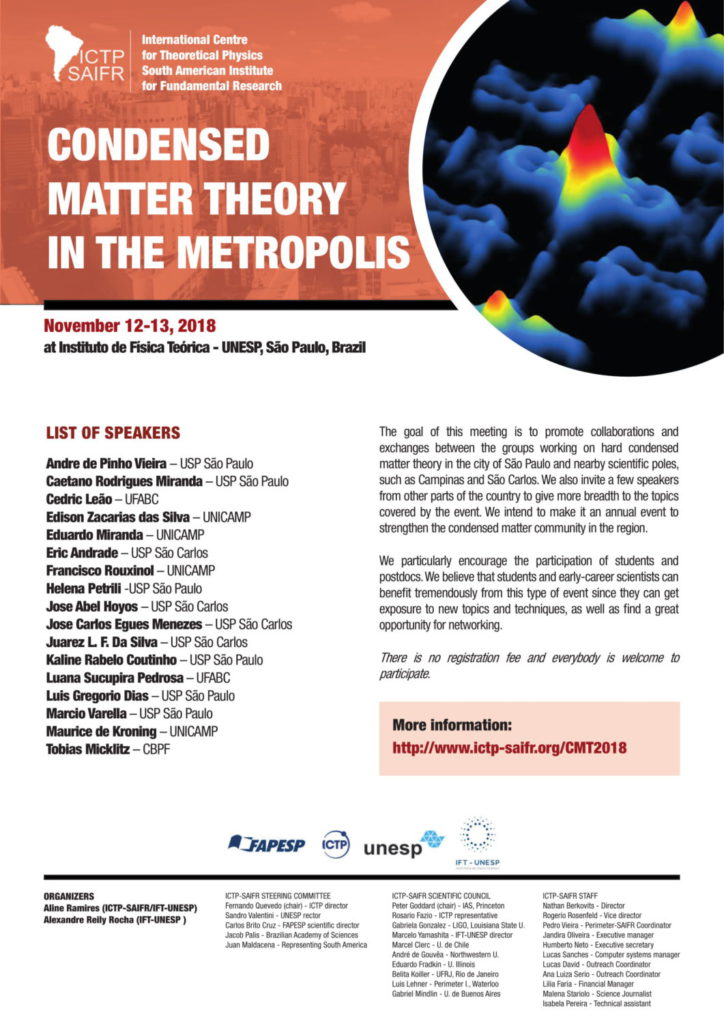 Additional Information
How to reach the Institute: The workshop will be held at ICTP South American Institute, located at IFT-UNESP, which is across the street from a major bus and subway terminal (Terminal Barra Funda). The address which is closer to the entrance of the IFT-UNESP building is R. Jornalista Aloysio Biondi, 120 – Barra Funda, São Paulo. The easiest way to reach us is by subway or bus, please find instructions here.