Sixth International ICTP-SAIFR/CLAF Workshop for the Design of the ANDES Underground Laboratory
Impact on physics, geology, biology and applied sciences
August 4-6, 2018
São Paulo, Brazil

Home
The Sixth International Workshop for the Design of the ANDES Underground Laboratory will take place August 4-6 2018 in São Paulo, Brazil, continuing the School on Dark Matter and Neutrino Detection. It follows the workshops held in April 2011 (Argentina), June 2011 (Brazil), January 2012 (Chile), January 2014 (Mexico) and June 2017 (Argentina).
The confirmation of the building of the Agua Negra tunnel, financed by the Inter-American Development Bank, together with the finalization of the ANDES conceptual design and the official support of EBITAN to add ANDES to the Agua Negra tunnel civil work make ANDES closer to completion. This workshop will focus on the remaining steps needed to plan the opening of ANDES. More information: http://andeslab.org/workshop6/ 
The program will be online in the third week of July. 
There is no registration fee.
Scientific and Organizing Committee:
Xavier Bertou (CNEA/CONICET, Argentina)
Osvaldo Civitarese (Universidad de La Plata, Argentina)
Claudio Dib (chair person – Universidad Técnica Federico Santa María, Chile)
João dos Anjos (CBPF, Brazil)
Juan Carlos D'Olivo (UNAM, Mexico)
Martha Alice Losada (Universidad Antonio Nariño, Colombia)
Martin Makler (CBPF, Brazil)
Eduardo Ponton (ICTP-SAIFR/IFT-UNESP, Brazil)
Speakers
Like for previous ANDES workshop, we expect talks from representative of major underground laboratories (SNOLAB, Gran Sasso, LSM, SURF, Canfranc, …), scientists from the main experiments in Dark Matter search (Xenon, Dark Side, Edelweiss, CRESST, …), neutrino physics (Borexino, Cuore, NeXT, SuperNEMO, …), and multidisciplinary underground science (Low Radiation experiments, Geophysics, Biology, …).
Registration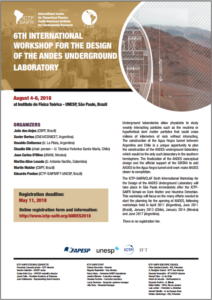 Registration is now open: click here to register and submit a talk 
Registration deadline: May 25, 2018
Preliminary Program
Aug 4:
ANDES status update
underground laboratory statuses
Dark Matter search
Aug 5:
Dark Matter search (cont.)
Neutrino Physics
Aug 6:
Neutrino Physics (cont.)
Multidisciplinary science
Round table
Photos
Additional Information