Entrepreneurship Workshop for Scientists and Engineers
Start time: October 17, 2016
Ends on: October 21, 2016
Location: São Paulo, Brazil
Venue: IFT-UNESP
Organizers:
Nathan Berkovits (ICTP-SAIFR & IFT-UNESP, Brazil)
Rodrigo Fernando Costa Marques (IQ-UNESP, Brazil)
Surya Raghu (ET-CUBE, USA)
Linsey Clark (IOP-London, UK)
Vanderlan da Silva Bolzani (AUIN/UNESP, Brazil)
Rita de Cassia Cortazzi Costoya (AUIN-UNESP, Brazil)
Speakers:
Richard Brooks (FD Solutions – London, UK)
Tools for Financial Estimations 
Sales price and market demand
Costs of sales for products and services
Gross margin
Examples of costs of sales for product and service, range for different sectors
Fixed overheads
Pitching for cash: Equity issues, share dilution 

Valuation at various stages of development

Funding needs at different stages

Communication and Presentation Skills
Carlos Henrique de Brito Cruz (FAPESP, Brazil): Science-based Entrepreneurship and Research Results Commercialization in Brazil
Maria Inez Fernandes Faraldo (UNESP-Botucatu, Brazil)
Tools for protecting Intellectual Property Copyrights, trademarks, patents, trade secrets,  etc.
Brazil Patent Office Information
Daniel Gurgel (Polifonia, Brazil): Creative Protagonism: navigating future challenges
Fernando Galembeck (UNICAMP, Brazil): Outlook and Experiences of Being an Inventor/Entrepreneur in Brazil
Dawood Parker (Melys Diagnostics, UK): Legal Contracts and Agreements in Start-ups
Surya Raghu (ET Cube International, USA):
Tools for Opportunity Assessment and Feasibility Analysis
Competition, entry barrier and market analysis, business model development
Taking the inventions to market –Evaluating the Technology Readiness Level (TRL) of an invention for commercialization, processes involved and estimates of time required to develop a product from an invention
Start, stumble and succeed
Maria Valnice Boldrin Zanoni (UNESP – Araraquara, Brazil): The bases of IP and Innovation in Brazil Scenario
Roundtable Panelists – Local Entrepreneurs/Innovators:
Luciano Avalone Bueno (Telos Consulting)
Fernando Galembeck (Chair, UNICAMP)
Rafael Tadeu Luques (Kanaí)
Rodrigo Fernando Costa Marques (Procell Biologics)
Estácio Terui (TEY Eolic generator)
Description:
This one-week workshop is intended for students, scientists and engineers from South America that are interested in gaining entrepreneurial skills to commercialise their scientific ideas and inventions. The workshop will consist of lectures from invited national and international speakers, case studies, group discussions and role-playing sessions related to the commercialisation of products. Topics include opportunity and value assessment, intellectual property (IP), basics of patenting, IP management and global IP protection, business plan fundamentals, technology readiness levels, invention to product, timelines and processes.  There is no registration fee and limited funds are available for travel and local expenses.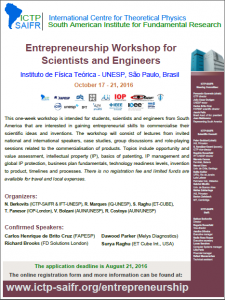 Satisfaction surveys:
Photos:
Videos:
Files:
Business Plan Structure (PDF)
Tools for financial estimations (PDF)
MTTC Investor Pitch Template (PDF)
ROI (PDF)
Valuation handout (PDF)
Scientists and Engineers as Entrepreneurs (PDF)
Tools for Opportunity Assessment and Feasibility Analysis (PDF)
Market Analysis, Competition, Entry Barrier and Business Model Development (PDF)
Legal Documents (PDF)
Key Activities in Taking a Product to Market (PDF)
Invention to Product (PDF)
Day 2 – Tools for Financial Estimations (PDF)
Day 3 – Pitching for Cash (PDF)
Financial terminology definitions answer sheet-level 1 (PDF)
Day 4 comms and presentation skills (PDF)
Start, Tumble and Succeed (PDF)
Additional Information:
List of Confirmed Participants: Updated on Oct 5
Registration: ALL participants should register. The registration will be on Oct 17  at the institute, from 8:30 to 9:30.  You can find arrival instructions at http://www.ictp-saifr.org/?page_id=195
Accommodation: Participants, whose accommodation has been provided by the institute will stay at The Universe Flat. Each participant, whose accommodation has been provided by the institute, has received the accommodation details individually by email.
BOARDING PASS: All participants, whose travel has been provided or will be reimbursed by the institute, should bring the boarding pass upon registration, and collect an envelope to send the return boarding pass to the institute.
Emergency number: 9 8233 8671 (from São Paulo city); +55 11 9 8233 8671 (from abroad), 11 9 8233 8671 (from outside São Paulo).
Ground transportation instructions: 
Ground transportation from Guarulhos Airport to The Universe Flat
Ground transportation from Congonhas Airport to the Universe Flat
Ground transportation from The Universe Flat to the institute