School on Community Ecology: from patterns to principles
January 20-25, 2020
São Paulo, Brazil
Home
From the bacteria in our guts, to the plants in the Amazon rainforest, ecological communities are made of many individuals and populations that coexist and interact in the same environment. Despite the complexity of the interactions between species and with the environment, often these communities display regularities in key macroscopic properties, such as their patterns of abundance, composition and the interaction network.
A quantitative understanding of the processes and mechanisms that shape the composition and diversity of such communities requires advanced tools and methods borrowed from statistical physics and applied mathematics. The school will consist in advanced courses on topics in the dynamics and structure of ecological communities, which aims both at introducing students to up-to-date question of the field as well as introduce useful mathematical tools.A particular focus will be given to the emergence of macroecological patterns ("laws") and to their connection to  fundamental mechanisms.
This activity will be preceded by the 'IX Southern-Summer School on Mathematical Biology'. Candidates may apply either for one or both schools, and preference will be given to graduate students in South America. Advanced undergraduate students are also welcome to apply. There is no registration fee and limited funds are available for travel and local expenses.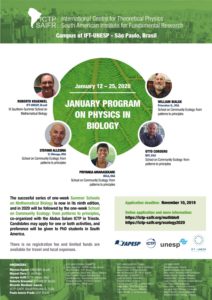 Click here for online application
Application deadline: November 10, 2019
Lecturers:
Organizers:
Marcus Aguiar (UNICAMP, Brazil)
Jacopo Grilli (ICTP-Trieste, Italy)
Roberto Kraenkel (IFT-UNESP, Brazil)
Ricardo Martinez-Garcia (ICTP-SAIFR/IFT-UNESP, Brazil)
Paulo Inácio Prado (IB-USP, Brazil)
Registration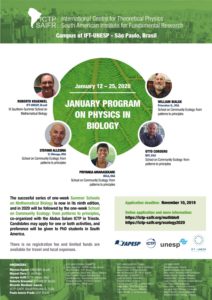 Click here for online application
Application deadline: November 10, 2019
Program & Wiksite
The program will be available in December, 2019
Videos and Files
Photos
Additional Information
Visa information: Nationals from several countries in Latin America and Europe, Australia, Canada, Japan and USA are exempt from tourist visa. Please check here which nationals need a tourist visa to enter Brazil.
Accommodation: Participants, whose accommodation will be provided by the institute, will stay at The Universe Flat. Hotel recommendations are available here
How to reach the Institute: The school will be held at ICTP South American Institute, located at IFT-UNESP, which is across the street from a major bus and subway terminal (Terminal Barra Funda). The address which is closer to the entrance of the IFT-UNESP building is R. Jornalista Aloysio Biondi, 120 – Barra Funda, São Paulo. The easiest way to reach us is by subway or bus, please find instructions here.
Yellow fever vaccination is recommended for travellers going to Brazil. Note that the vaccine needs to be taken at least ten days before the trip to be effective. Information: https://wwwnc.cdc.gov/travel/notices/alert/yellow-fever-brazil