Conference on Industry-University

Interactions in Brazilian Physics
October 18, 2018
São Paulo, Brazil

Home
Place: IFT-Auditorium
Time: 9:00 am to 5:00 pm
Video: Youtube
Description:
This one-day conference will discuss interactions between private industry and public universities with respect to physicists and physics research in São Paulo, as well as in other regions of Brazil and the world. There is no registration fee. 
This conference will take place during the Entrepreneurship School for Scientists and Engineers (Oct. 15-19, 2018), with information at: http://www.ictp-saifr.org/entrepreneurship18 . Participants in this school are automatically registered to participate in this conference.
There will be no application form for this activity and everyone is welcome to participate. 
CONFERENCE PROGRAM: PDF updated on October 18, 2018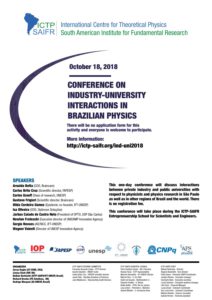 Arnaldo Betta (COO, Braincare) — Braincare: from science to the market, for the benefit of all people
Carlos Brito Cruz (Scientific director, FAPESP) — University-Business research collaboration in Brazil: challenges and opportunities
Carlos Graeff (Dean of research, UNESP) — Research and Innovation in UNESP
Gustavo Frigieri (Scientific director, Braincare) — Braincare: from science to the market, for the benefit of all people
Hilda Cerdeira (Epistemic co-founder, IFT-UNESP) — Multidisciplinarity and the future of innovation
Isa Oliveira (COO, Optimum Soluções) — From the laws of physics to the physics of laws
Jarbas Caiado de Castro Neto (President of OPTO, USP São Carlos) — Case study of an optoelectronics medical equipment manufacturer in Brazil
Newton Frateschi (Executive director of UNICAMP Innovation Agency) — Building an ecosystem around a university: the Inova case
Raphael Cobe (AI2/NCC, IFT-UNESP) — HEP, AI and the digital social innovation
Wagner Valenti (Director of UNESP Innovation Agency) — Research and Innovation in UNESP
Photos