Going On After the LHC8 (GOAL) Workshop
Start time: August 11, 2014
Ends on: August 15, 2014
Location: São Paulo, Brazil
Venue: IFT-UNESP
Organizers:

Gustavo Burdman (IF-USP), Roberto Contino (CERN/EPFL), Christophe Grojean (ICREA/IFAE), Eduardo Pontón (IFT/ICTP-SAIFR), Rogerio Rosenfeld (IFT/ICTP-SAIFR).
Description:
The Large Hadron Collider at CERN has finished its first successful run in December 2012.
The historical discovery of a Higgs boson started the exploration of the sector of the Standard Model responsible for the spontaneous breaking of the electroweak symmetry.
Since no conclusive evidence for new physics beyond the SM has been found at the LHC so far, many theoretical ideas are now being put to stringent tests.
The goal of this workshop is to bring together theorists to ponder on the progress that the flurry of data from LHC8 has brought to the field and access future directions of research before the LHC is turned on again with almost its full design energy and higher luminosities. We intend to have a light schedule of short talks, leaving ample time for discussions.
In the following week there will be a minicourse on "On-shell methods, amplitudes and collider physics" by David Kosower (Saclay).
Confirmed Speakers:
Confirmed Participants and Speakers: PDF Version
Registration deadline: June 30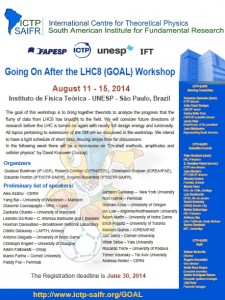 Registration:
From 8:30 to 9:30 on Monday, August 11  2014.
Workshop Program:  (You can download the GOAL program here)

Photos:
Videos:
11/08
12/08
13/08
14/08
15/08
Hotel Recommendations:
The Universe Flat
Rua Pamplona, 83 – Jardim Paulista – São Paulo
Rates: R$ 274 + 5% (single) or R$ 324 + 5% (double), this is a special rate for Unesp.
Reservation: In order to get this rate you have to send an email to secretary@ictp-saifr.org
Hotel webpage: http://www.intercityhoteis.com.br/hoteis/hotel-the-universe/
This is the main hotel of the workshop.
How to reach the institute from The Universe Flat: Click here
Paulista Flat
Alameda Campinas, 105  – Bela Vista – São Paulo
Rates: You can check the rates and availability here
Reservation: Directly with the hotel. A credit card will be requested.
Hotel webpage: http://www.paulistaflat.com.br/home
How to reach the institute from Paulista Flat: Click here
Paulista Wall Street Suites
Rua Itapeva, 636 – Bela Vista – São Paulo
Rates: You can check the rates and availability here
Reservation: Directly with the hotel. A credit card will be requested.
Hotel webpage: http://www.wallstreet.com.br/
How to reach the institute from Paulista Wall Street Suites: Click here
Ibis Budget Paulista
Rua da Consolação 2303 – Consolação – São Paulo
Rates: You can check the rates and availability here
Reservation: Directly with the hotel. A credit card will be requested.
Hotel Webpage: http://www.ibis.com/gb/hotel-5323-ibis-budget-sao-paulo-paulista/index.shtml
How to reach the institute from Ibis Budget Paulista: Click here
Hostel Alice
Rua Harmonia, 1275 – Vila Madalena – São Paulo
Rates: You can check the rates and availability here
Reservation: Directly with the hostel. A credit card will be requested.
Hostel webpage: http://www.hostelalice.com.br/site/br/
How to reach the institute from Hostel Alice: Click here–
If you are coming to the institute from another point of departure, you can find arrival instruction at http://www.ictp-saifr.org/?page_id=195