II South American Dark Matter Workshop

November 21-23, 2018
ICTP-SAIFR, São Paulo, Brazil
Auditorium of IFT-UNESP
Home
The goal of this international workshop is to explore the state of the art of the Dark Matter field, discussing the latest developments in all branches: theoretical, collider, direct and indirect, and astro. By bringing together the South American and international community we aim to foster new collaborations and new long-lasting partnerships, at a most timely moment in the development of the field. There is no registration fee.
Confirmed Speakers:
Pier Stefano Corasaniti (Observatoire de Paris, France)
Francesco D'Eramo (Università di Padova, Italy)
Arman Esmaili (PUC-Rio de Janeiro, Brazil)
Azadeh Fattahi (Durham University, UK)
Daniel Lopez-Fogliani (Universidad de Buenos Aires, Argentina)
Christopher McCabe (King's College London, UK)
Ruth Pottgen (Lund University, Sweden)
Farinaldo Queiroz (IIP Natal, Brazil)
Davi Rodrigues (UFES, Vitoria, Brazil)
Cecilia Scannapieco (Universidad de Buenos Aires, Argentina)
Susana Landau (Universidad de La Plata) – Slide
Organizers:
Enrico Bertuzzo (USP)
Fabio Iocco (IFT-UNESP & ICTP-SAIFR)
Manuela Vecchi (RUG-USP)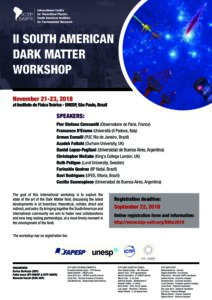 Registration is now closed.
Photos
Slides & Program
Videos
II South American Dark Matter Workshop
II South American Dark Matter Workshop – Day 2  – Part 1:
I. Albuquerque: "Dark Side Experiment: Venturing in the Low Mass Dark Matter Region"
A. Brown: "Status and Results from the XENON1T Dark Matter Experiment"
Y. Biondi: "DARWIN: the ultimate dark matter detector"
E. Baracchini: "Directional Dark Matter search with optical read out sand the CYGNO project"
II South American Dark Matter Workshop – Day 2  – Part 2:
C. McCabe: "Direct detection phenomenology"
F. D'Eramo: "New Theory Tools to Unveil the Mystery of Dark Matter"
II South American Dark Matter Workshop – Day 2  – Part 3:
A. Lessa: "Testing Minimal Freeze-in Models at the LHC"
D. Restrepo: "Scotogenic models with Dirac fermion dark matter"
G. Grillidi Cortona: "Coupling-independent regime for mesonic DM in Hidden Valley models"
II South American Dark Matter Workshop – Day 2  – Part 4:
N. Bernàl: "Spin-2 Portal Dark Matter"
D. Lopez-Fogliani: "Phenomenology of the µνSSM: Displaced Vertices
at the LHC and In direct Dark Matter Signals at Gamma Ray Telescopes"
D. Camargo: "Dark Matter in Two Higgs Doublet Models with U(1)B−LGaugeSymmetry"
Conversation on: Gender in Science" (Corepanel: A. Fattahi, K. Menendez-Delmestre, A. Ramires, C. Scannapieco, M. Vecchi.)
II South American Dark Matter Workshop – Day 3  – Part 1:
E. Farina: "Results on Dark Matter searches with the ATLAS detector"
E. Graziani: "Dark matter search at Belle II"
R. Poettgen: "Light in the Dark–Searching for sub-GeV Dark Matter"
C. Siqueira: "MeV Dark Matter Complementarity and the Dark PhotonPortal"
II South American Dark Matter Workshop – Day 3  – Part 2:
A. Capone: "Indirect search of Dark Matter with Cherenkov Neutrino Telescopes"
A. Esmaili: "On the dark matter contribution to the Ice Cube diffuse neutrino flux"
L. Rinchiuso: "Indirect dark matter search at the Galactic Centre with H.E.S.S."
F. Queiroz: "Gamma-ray lines may reveal the CP nature of Dark Matter"
Concluding Remarks
Additional Information