ICTP-SAIFR/IFT-UNESP Physics Discussions

Home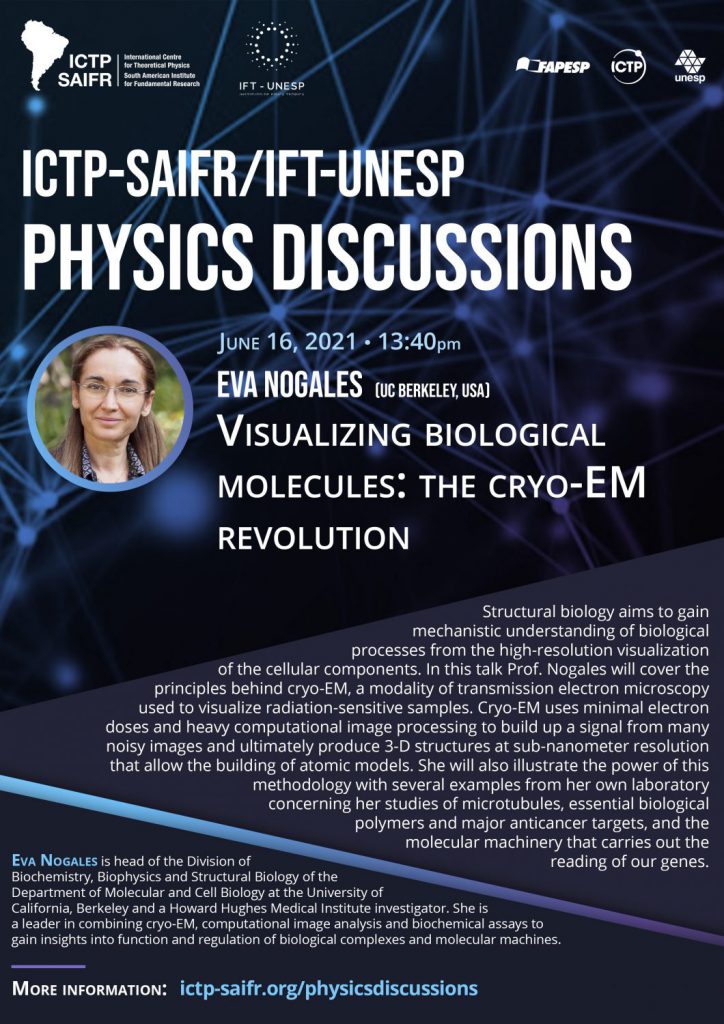 ICTP-SAIFR/IFT-UNESP Physics Discussions

is a new bi-weekly colloquium/discussion for graduate students and researchers. In addition to a 60-minute colloquium for all, the activity includes a 20-minute discussion of research and career choices before the colloquium and a 20-minute discussion of physics after the colloquium just for graduate students. The colloquium will be broadcast live on Youtube, but the discussion session before and after the colloquium will use a Zoom platform restricted to graduate students which has limited space.
The
Registration form

for graduate students who would like to participate via Zoom is HERE
The
Youtube link

for the colloquium transmitted live will be posted on this website.
PROGRAM (Brasilia time, BRT)
Wednesday, June 16
Speaker:
Eva Nogales (UC Berkeley, USA)
Title:
Visualizing Biological Molecules: the Cryo-EM Revolution
13:40-14:00  Discussion (for graduate students on Zoom)
14:00-15:00 Colloquium
15:00-15:20 Discussion (for graduate students on Zoom)
PAST EVENTS
Wednesday,  January 27
Speaker:
Donna Strickland

(University of Waterloo, 2018 Nobel Laureate)
Title:
From Nonlinear Optics to High-Intensity Laser Physics
13:40-14:00  Discussion (for graduate students on Zoom)
14:00-15:00 Colloquium
15:00-15:20 Discussion (for graduate students on Zoom)
POSTER: DOWNLOAD HERE
Wednesday, February 10
Speaker:
Ignacio Cirac

(Max Planck Institute of Quantum Optics, Garching)
Title:
Quantum Computers and Many-Body Systems
13:40-14:00  Discussion (for graduate students on Zoom)
14:00-15:00 Colloquium
15:00-15:20 Discussion (for graduate students on Zoom)
POSTER: DOWNLOAD HERE
YOUTUBE LINK: CLICK HERE
Wednesday, February 24
Speaker:
Steven Strogatz

(Cornell University)
Title:
Networks of Oscillators that Synchronize Themselves
10:40-11:00 Discussion (for graduate students on Zoom)
11:00-12:00 Colloquium
12:00-12:20 Discussion (for graduate students on Zoom)
POSTER: DOWNLOAD HERE
YOUTUBE LINK: CLICK HERE
Wednesday, March 10
Speaker:
Nathan Seiberg

(Institute for Advanced Study, Princeton)
Title:
Quantum Field Theory and Beyond
13:40-14:00 Discussion (for graduate students on Zoom)
14:00-15:00 Colloquium
15:00-15:20 Discussion (for graduate students on Zoom)
POSTER: DOWNLOAD HERE
YOUTUBE LINK: CLICK HERE
Wednesday, March 24
Speaker:
Joshua Shaevitz

(Princeton University)
Title:
Self-driven phase transitions in living matter
13:40-14:00  Discussion (for graduate students on Zoom)
14:00-15:00 Colloquium
15:00-15:20 Discussion (for graduate students on Zoom)
POSTER: DOWNLOAD HERE
YOUTUBE LINK: CLICK HERE
Wednesday, April 7
Speaker:
Jolien Creighton

(University of Wisconsin at Milwaukee)
Title:
5 Years of Gravitational Wave Astronomy
13:40-14:00  Discussion (for graduate students on Zoom)
14:00-15:00 Colloquium
15:00-15:20 Discussion (for graduate students on Zoom)
POSTER: DOWNLOAD HERE
YOUTUBE LINK: CLICK HERE
Wednesday, May 5
Speaker:
Eiichiro Komatsu

(Max Planck Institute for Astrophysics, Garching)
Title:
Finding Gravitational Waves from the Early Universe –

(PDF)
10:40-11:00  Discussion (for graduate students on Zoom)
11:00-12:00 Colloquium
12:00-12:20 Discussion (for graduate students on Zoom)
POSTER: DOWNLOAD HERE
YOUTUBE LINK: CLICK HERE
Wednesday, May 19
Speaker:
Leticia Cugliandolo (Sorbonne Univ., Paris) 
Title: Thermodynamic concepts out of equilibrium:

 

from classical to quantum
13:40-14:00  Discussion (for graduate students on Zoom)
14:00-15:00 Colloquium
15:00-15:20 Discussion (for graduate students on Zoom)
POSTER: DOWNLOAD HERE
YOUTUBE LINK: CLICK HERE
Wednesday, June 2
Speaker:
Vlatko Vedral (Oxford Univ.) 
Title:
Quantum Physics in the Macro Domain
13:40-14:00  Discussion (for graduate students on Zoom)
14:00-15:00 Colloquium
15:00-15:20 Discussion (for graduate students on Zoom)
POSTER: DOWNLOAD HERE
YOUTUBE LINK: CLICK HERE