Condensed Matter Theory in the Metropolis

November 12-13, 2018
ICTP-SAIFR, São Paulo, Brazil
Auditorium of IFT-UNESP
Home
The goal of this meeting is to promote collaborations and exchanges between the groups working on hard condensed matter theory in the city of São Paulo and nearby scientific poles, such as Campinas and São Carlos. We also invite a few speakers from other parts of the country to give more breadth to the topics covered by the event. We intend to make it an annual event to strengthen the condensed matter community in the region.
We particularly encourage the participation of students and postdocs. We believe that students and early-career scientists can benefit tremendously from this type of event since they can get exposure to new topics and techniques, as well as find a great opportunity for networking.
There is no registration fee and everybody is welcome to participate.
Preliminary list of topical sessions:
– Computational Modelling of Materials
– Electronic Structure Calculations
– Strongly Correlated Electronic Systems
– Superconductivity
– Topological Phases of Matter
List of Invited Speakers:
Andre de Pinho Vieira (USP São Paulo): Emergent dimerization and localization in disordered quantum chains – Slide

Belita Koiller (UFRJ): Atomically placed P in Si as quantum simulators and transport-based devices
Caetano Rodrigues Miranda  (USP São Paulo): Nano-confined water in interfaces: a fresh and sonic molecular look

Caio Lewenkopf 

(

UFF): Quantum thermodynamics: Entropy evolution in strongly coupled mesoscopic systems
Cedric Leão (UFABC): Homojunctions and heterojunctions in 2D materials
Edison Zacarias das Silva (UNICAMP): Double Rainbow and the Physics of Clusters: Computer Simulations Meets Experiments
Eduardo Miranda (UNICAMP): Abandoned by Bloch: the dominance of disorder
Eric Andrade (USP São Carlos): Uncovering novel phases in j=3/2 Mott insulators
Francisco Rouxinol (UNICAMP): Quantum Information and Quantum Sensing Applications using Macroscopic Scale Elements
Helena Petrilli (USP São Paulo): Computer simulations of materials through ab-initio electronic structure calculations performed at IF-USP
Jose Abel Hoyos (USP São Carlos): Cluster-glass phase in pyrochlore XY antiferromagnets with quenched disorder
Jose Carlos Egues (USP São Carlos): Topological and non-topological edge states in quantum dots and Chern Insulators
Juarez L. F. Da Silva (USP São Carlos): First-Principles Investigation of Chalcogenides Materials: From Nanoflakes to 2D Solids – Slide
Kaline Rabelo Coutinho (USP São Paulo):
Leandro Sei

xas

(Mackenzie): Phase transitions and covalent functionalization in two-dimensional transition metal dichalcogenides
Luana Sucupira Pedroza (UFABC): Water-solid interfaces
Luis Gregorio Dias (USP São Paulo):  Detection and manipulation of Majorana zero modes in mesoscopic systems

Marcio Varella (USP São Paulo): Positronic Molecules
Maurice de Koning (UNICAMP): Glassy Dynamics at Pre-melted Grain Boundaries in Ice Ih
Tobias Micklitz (CBPF): On localization in Fock-space
Fábio Negreiros Ribeiro (Facultad de Ciencias Químicas, UNC) – Understanding hydrodesulfurization at the atomic level: a computational science approach applied to catalysis – Slide
Jimena A. Olmos-Asar (Departamento de Química Teórica y Computacional, Facultad de Ciencias Químicas, Universidad Nacional de Córdoba – INFIQC, CONICET) – On the search of new lightweight materials for the automotive technology: a computational approach – Slide
Organizers:
Aline Ramires (ICTP-SAIFR/IFT-UNESP)
Alexandre Reily Rocha (IFT-UNESP )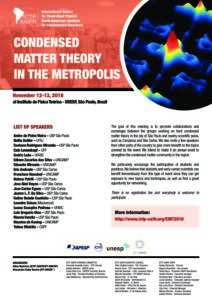 Photos
Program
Additional Information