III Southern-Summer School on Mathematical Biology
Start time: February 3, 2014
Ends on: February 15, 2014
Location: São Paulo, Brazil
Venue: IFT-UNESP
Organizers:

M. Clerc (Santiago), R. Kraenkel (São Paulo), P.I. Prado (São Paulo)
Distinguished lecturer:

Simon Levin (Princeton Univ., USA) – Challenges in Mathematical Ecology: scaling and collective phenomena; sustainability science; infectious diseases
Lecturers:

Roberto Kraenkel (IFT-UNESP, Brazil) – Introduction to Population Biology
Robert Smith? (Univ. Ottawa, Canada) – Mathematical Modeling of Infectious Diseases.
Otso Ovaskainen (Univ. Helsinki, Finland) – Spatial Ecology and Evolution: Integrating Theory and Data
François Massol (CNRS, Montpellier, France) – Topics in Evolutionary Dynamics
Description:
This school is aimed at graduate students in Physics, Mathematics, Ecology and Epidemiology, having at least a basic knowledge of calculus and differential equations. The first week will be a basic course on population biology, which is strongly based on modeling exercises. The second week will consist of three advanced courses on up-to-date topics in ecology and epidemiology and a series of three seminars by a distinguished professor. It is possible to apply for participation either for one or two weeks. Undergraduate students with exceptional records are also encouraged to apply. Limited funds are available for travel and local expenses. There is no registration fee.
Please note that acceptance cannot be taken for granted, as we expect a much higher number of applications than the maximum number of participants. We advise the candidates to carefully complete the application form, providing enough information for the selection committee to take a decision.
In order to have an idea of the kind of activities that take place during the course, please visit the home-page of the first two editions of this school at http://www.ictp-saifr.org/mathbio and http://www.ictp-saifr.org/mathbio2
Application Deadline, December 7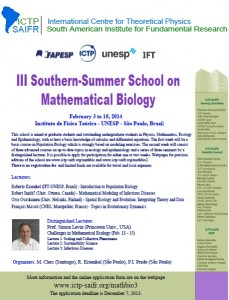 List of Participants: Updated on Feb 5
General Information: General Information Sheet –  Useful information specially for those who are not from São Paulo city.
Poster Presentation: Participants who are presenting poster MUST BRING THE POSTER PRINTED. The poster size should be at most 1m x 1m. Please do not bring hanging banner, only sticking poster.
Accommodation: Participants whose accommodation have been arranged and paid by the institute will stay at Paulista Flat. Each participant whose accommodation has been arranged by the institute has received the details about the accommodation individually.
Registration: ALL participants should register. The registration at the institute will be on February 3 from 8am to 9:00am, and on February 10 from 8am to 9:00am (Participants of the second week). Upon registration, please bring a copy of your ID or passport. You can find arrival instruction at http://www.ictp-saifr.org/?page_id=195
Upon registration, participants who are receiving financial support, please bring a photocopy of your ID or passport.
BOARDING PASS – All participants, whose travel has been provided or will be reimbursed by the institute, should bring the boarding pass upon registration, and collect an envelope to send the return boarding pass to the institute.
Emergency number: 982 338 671 (from São Paulo city); +55 11 982 338 671 (from abroad), 11 982 338 671 (from outside São Paulo).
Ground transportation instructions:
Ground transportation from the Airport to Paulista Flat
Ground transportation from Paulista Flat to the institute
Suggested Readings:
Kraenkel
Massol
Ovaskainen
Smith?
Files:

1st week
2nd week
Preliminary Programme: PDF version updated on Jan 21
FIRST WEEK: February 3 to 8

Monday, 3 February

8:00  –  9:00

Registration

9:00 – 11:00

OPENING and LECTURE  I    Single species dynamics


11:00  – 18:00

WORK ON PROJECTS   (lunch and coffee break will be available during this time)

18:00  – 19:30

PRESENTATION OF PROJECTS

Tuesday, 4 February

9:00  – 10:30

LECTURE II   Predation [Video]


10:30  – 18:00

WORK ON PROJECTS   (lunch and coffee break will be available during this time)

18:00  – 19:30

EXTRA LECTURE

Wednesday, 5 February

9:00  – 10:30

LECTURE III  Competition [Video]


10:30  – 18:00

WORK ON PROJECTS   (lunch and coffee break will be available during this time)

Thursday, 6 February

9:00  – 10:30

LECTURE IV   Epidemics [Video]


10:30  – 18:00

WORK ON PROJECTS   (lunch and coffee break will be available during this time)

18:00  – 19:30

BESTIARIUM

Friday, 7  February

9:00  – 10:30

LECTURE V   Spatial ecology [Video]


10:30  – 18:00

WORK ON PROJECTS   (lunch and coffee break will be available during this time)

18:00 – 19:30

SEMINAR

Saturday, 8 February

9:00  – 10:30

LECTURE VI   Desertification and alternative States

10:30  – 19:30

WORK ON PROJECTS   (lunch and coffee break will be available during this time)

Sunday, 9 February

All day

FREE  DAY

SECOND WEEK: February 10 to 15

Monday, 10 February

8:00 – 9:00

Registration – Participants of the second week only

9:00  – 12:30

PRESENTATIONS BY THE GROUPS OF WEEK I

12:30 – 14:00

Lunch

14:00 – 15:00

PRESENTATIONS BY THE GROUPS OF WEEK I

15:00 – 15:30

Coffee break

15:30 – 16:20

ROBERT SMITH? [Video]

16:20 – 16:40

SHORT BREAK

16:40- 17:10

DISCUSSION

17:30 – 18:30

EXTRA SEMINAR – GILBERTO CORSO

Tuesday, 11 February

9:00 –   9:50

FRANÇOIS MASSOL [Video]

9:50 – 10:10

SHORT BREAK

10:10 – 10:40

DISCUSSION

10:40 – 11:00

COFEE BREAK

11:00 – 11:50

ROBERT SMITH? [Video]

11:50 – 12:20

DISCUSSION

12;20 – 14:00

Lunch

14:00 – 14:50

FRANÇOIS MASSOL [Video]

14:50 – 15:10

SHORT BREAK

15:10 – 15:40

DISCUSSION

15:40: – 16:00

COFFEE BREAK

16:00 – 17:30

EXTRA SEMINAR  — ELISABETH NICHOLS

Wednesday,  12 February

9:00–  9:50

ROBERT SMITH? [Video]

9:50 – 10:10

SHORT BREAK

10:10 – 10:40

DISCUSSION

10:40 – 11:00

COFFEE BREAK

11:00 – 13:00
13:00- 14:30

Lunch

14:30 – 15:20

ROBERT SMITH? [Video]

15:20 – 15:40

SHORT BREAK

15:40 – 16:10

DISCUSSION

16:10 – 16:30

COFFEE-BREAK

16:30 – 18:00

MASTER  CLASSES

Thursday, 13 February

9:00–  9:50

OTSO OVASKAINEN [Video]

9:50 – 10:10

SHORT BREAK

10:10 – 10:40

DISCUSSION

10:40 – 11:00

COFFEE BREAK

11:00 – 13:00

SIMON LEVIN [Video]

13:00 – 14:30

Lunch

14:30 – 15:20

FRANÇOIS MASSOL [Video]

15:20  – 15:40

SHORT BREAK

15:40 – 16:10

DISCUSSION

16:10: –  16:30

COFFEE BREAK

16:30 –  18:00

MASTER CLASSES

Friday,  14 February

9:00 – 9:50

OTSO OVASKAINEN [Video]

9:50 – 10:10

SHORT BREAK

10:10 – 10:40

DISCUSSION

10::40 – 11:00

COFFEE BREAK

11:00 – 13:00

13:00 – 14:30

Lunch

14:30 – 15:20

OTSO OVASKAINEN [Video]

15:20 – 15:40

SHORT BREAK

15:40 – 16:10

DISCUSSION

16:10 – 16:30

COFFEE BREAK

16:30  – 18:00

Daniel Lahr (USP)

Saturday,   15 February

9:00  – 9:50

OTSO OVASKAINEN

9:50 –10:10

SHORT BREAK

10:10 – 10:40

DISCUSSION

10:40 – 11:00

COFFEE BREAK

11:00 – 11:50

FRANÇOIS MASSOL

11:50 – 12:20

DISCUSSION

12:20 –

CLOSING