School on Quantum Chaos
August 21 – September 1, 2023
São Paulo, Brazil

Home
Quantum chaos focuses on the quantum manifestations of classical chaos. A characteristic of classical chaos is the exponential sensitivity of the dynamics with respect to infinitesimal changes in the initial conditions. Thus, to classify classical dynamics it is sufficient to follow phase space trajectories starting infinitesimally close to each other and to determine the evolution of their distances with respect to each other with time. Because of the uncertainty relation, this is no longer possible in the corresponding quantum system.
One important aspect of quantum chaos is the understanding of features of the classical dynamics in terms of the fluctuation properties in the energy spectra of closed quantum systems or of the fluctuations exhibited by the scattering matrix elements describing open ones. The fluctuation properties are predicted to be universal, that is, to be the same for systems belonging to the same universality class and exhibiting the same chaotic behavior in the corresponding classical dynamics and to be describable by random matrix theory. Furthermore, random-matrix models that had been developed for the scattering matrix associated with compound-nuclear reactions have been shown to be applicable to quantum-chaotic scattering processes.
A second important aspect within the field of quantum chaos concerns the semiclassical approach. In this context, one of the most important achievements was the periodic orbit theory pioneered by Gutzwiller, which led to understanding the impact of the classical dynamics on the properties of the quantum system in terms of purely classical quantities.
The focus of research within the field of quantum chaos has been extended to relativistic quantum systems and to many-body quantum systems with focus on random matrix theory and the semiclassical approach. In distinction to single-particle systems, many-body systems like atomic nuclei do not have a classical analogue. In recent years different measures of chaos and models have been developed. Here, a prominent model is the Sachdev-Ye-Kitaev model which serves as a paradigm for the study of quantum chaos in strongly interacting many-body systems.
The school is aimed at PhD students, post-docs and outstanding master students and the first part will provide a survey of single- and many-body quantum chaos and applications based on random-matrix theory and the semiclassical approach. The second part of the school will focus on current aspects of research in the context of many-body quantum chaos.
There is no registration fee and limited funds are available for travel and local expenses.
Organizers:
Hilda Cerdeira (IFT-UNESP, Brazil)

Barbara Dietz-Pilatus (Institute for Basic Science (IBS), Republic of Korea)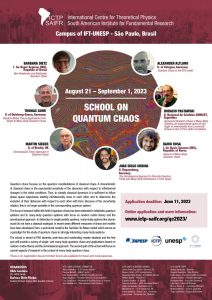 Click HERE for online application
Application deadline: June 11, 2023
Lecturers
First Week –

Introduction to single-particle quantum chaos, random matrix theory and the semiclassical approach:
Barbara Dietz (Institute for Basic Science (IBS), Republic of Korea): Non-Relativistic and Relativistic Quantum Chaos
Thomas Guhr (University of Duisburg-Essen, Germany): Random Matrix Theory Applications from Single to Many-Body Quantum Chaos

Martin Sieber (University of Bristol, UK): Semiclassical Theory Approach in Quantum Chaos
Second week – Review of aspects of many-body quantum chaos and the main models:
Alexander Altland (University of Cologne, Germany): Quantum Chaos in the SYK model

Horacio Pastawski (Universidad Nacional de Córdoba-CONICET, Argentina): Dynamical Quantum Chaos in Many-Body Systems: An experimental quest for the origin of irreversibility from Loschmidt Echoes to Out of Time Order Correlators
Dario Rosa (Institute for Basic Science (IBS), Republic of Korea): Aspects of Many-Body Quantum Chaos
Juan Diego Urbina (University Regensburg, Institute for Theoretical Physics, Germany): The Semiclassical Approach to Discrete Quantum Fields and Many-Body Interference in Fock Space
Registration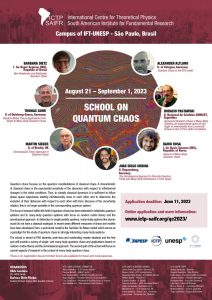 Click HERE for online application

Application deadline: June 11, 2023

Preliminary Program
Photos
Additional Information
BOARDING PASS: All participants, whose travel has been provided or will be reimbursed by ICTP-SAIFR, should bring the boarding pass  upon registration. The return boarding pass (PDF, if online check-in, scan or picture, if physical) should be sent to secretary@ictp-saifr.org by e-mail.
COVID-19: Fully vaccinated Brazilians and foreigners are required to present proof of vaccination, printed or electronically before boarding an international flight. Not vaccinated and not fully vaccinated passengers have to present a medical certificate with a negative test result before entering the country. Tests should be taken up to 24 hours before boarding.
Visa information: Nationals from several countries in Latin America and Europe are exempt from tourist visa. Nationals from Australia, Canada, Japan and USA are exempt from tourist visa until October 1st, 2023. Please check here which nationals need a tourist visa to enter Brazil.
Accommodation: Participants, whose accommodation will be provided by the institute, will stay at The Universe Flat. Hotel recommendations are available here
How to reach the Institute: The school will be held at ICTP South American Institute, located at IFT-UNESP, which is across the street from a major bus and subway terminal (Terminal Barra Funda). The address which is closer to the entrance of the IFT-UNESP building is R. Jornalista Aloysio Biondi, 120 – Barra Funda, São Paulo. The easiest way to reach us is by subway or bus, please find instructions here.