SILAFAE XII¾

November 8-12, 2021 (by videoconference)
Zoom ID: 892 3901 2974
Password: saifr
CODE OF CONDUCT (Zoom protocol): click HERE
Please send an e-mail to thiago AT ictp-saifr.org, if you have any access problem.
ICTP-SAIFR, São Paulo, Brazil
Home
SILAFAE is a traditional event that gathers the Latin American community in High Energy, Cosmology and AstroParticle Physics, with the aim of discussing our current knowledge and the future perspectives in these areas.
The 12th edition was held in Lima, Peru (https://indico.cern.ch/event/701855/).
Due to the Covid-19 pandemic, we are organizing a light-weight, online meeting that we are calling the 12¾th edition and planning a full in-person meeting in Ecuador in 2022.
In addition to the invited talks, we anticipate a reduced number of short contributed talks. Posters with pre-recorded talks and one session with flash presentations is planned as well.
We are also planning the creation of a Latin American Association for High Energy, Cosmology and Astroparticle Physics during SILAFAE with the goals to congregate and organize our community. Please find a proposal for the by-laws HERE.
There is no registration fee.
Organizing Committee:
Jorge Alfaro (PUC, Chile)
Edgar Carrera (USFQ, Ecuador) – Chair
Edgar Cifuentes (USAC, Guatemala)
Daniel de Florián (UBA, Argentina)
Angelina Díaz (AENTA, Cuba)
Marco A. Diaz (PUC, Chile)
Claudio Dib (UTFSM, Chile)
Juan Carlos D'Olivo (ICN-UNAM, Mexico)
João dos Anjos (CBPF, Brazil)
Tere Dova (UNLP, Argentina)
Ana María Font (UCV, Venezuela)
Alberto M. Gago (PUCP, Peru)
Beatriz Gay Ducati (UFRGS, Brazil)
Gabriel González (URU, Uruguay)
Gerardo Herrera (Cinvestav, Mexico)
Joel Jones-Pérez (PUCP, Peru)
Marta Losada (UAN, Colombia)
Sudhir Malik (UPR/Mayagüez, Puerto Rico)
Daryel Manreza Paret (La Habana, Cuba)
Roberto Martínez (UNAL, Colombia)
Nicolas Martinic (ULP, Bolivia)
Alejandra Melfo (ULA, Venezuela)
Ramón Mendez Galain (URU, Uruguay)
Enrico Nardi (LNF, Italy)
Orlando Pereyra (UNI, Peru)
Aurora Perez Diaz (ICIMAF / La Habana, Cuba)
Juan Ponciano (USAC, Guatemala)
Diego Restrepo (UdeA / Medellin, Colombia)
Rogerio Rosenfeld (IFT-UNESP, Brazil) – Co-chair
Esteban Roulet (Bariloche, Argentina)
John Swain (NEU, USA)
Luis M. Villaseñor (UMSNH, Mexico)
Talks
Invited Speakers:
Ulisses Barres (CBPF, Brazil): The Southern Wide Field Gamma Ray Observatory (SWGO)
Nicolás Bernal (Antonio Nariño University,Colombia): Dark Matter in the Time of Primordial Black Holes
Enrico Bertuzzo (USP, Brazil): Relaxion physics
Carla Bonifazi (UFRJ, Brazil & ICAS, Argentina): Detecting coherent elastic neutrino-nucleus scattering
Hugo Camacho (IFT-UNESP/ICTP-SAIFR, Brazil): Cosmological results from the first three years of observations of the Dark Energy Survey
Marcela Carena (University of Chicago, USA): Dark Matter Effects on the Early Universe and Muon g-2
Claudio Dib (Universidad Tecnica Federico Santa Maria, Chile): Updates on the ANDES project
Cora Dvorkin (Harvard, USA): Unlocking Dark Matter Physics out of Astrophysical Data Sets
Nayara Fonseca (ICTP-Trieste, Italy): Theory of Deep Learning and Physics
André de Gouvêa (Northwestern University, USA): Neutrino Physics News
Cristiane Jahnke (UNICAMP, Brazil): Highlights and perspectives from the ALICE experiment
Marta Losada (NYU, USA & Abu Dhabi U., United Arab Emirates): Constraining Baryogenesis in the Standard Model EFT with dim 6 terms using LHC Higgs physics and EDMs
Camila Machado (DESY, Germany): On-shell amplitudes for effective theories
Michelangelo Mangano (CERN, Switzerland): Physics at Future Circular Colliders
Enrico Nardi (INFN Frascati National Laboratories, Italy): The axion: phenomenological implications and open theoretical problems
Angela Olinto (University of Chicago, USA): Space Observatories for Ultrahigh Energy Astroparticles
Massimo Passera (University of Padova, Italy): Muon g-2 and Δα connection
Federico Sánchez (CONICET, Argentina): The Pierre Auger Observatory: results and perspectives
Álvaro G. dos Santos Neto (Universidade Federal do Triângulo Mineiro, Brazil): LHCb latest results and new perspectives
Ettore Segreto (UNICAMP, Brazil): DUNE Experiment
Andres Guillermo Delannoy Sotomayor (University of Tennessee, USA): CMS updates
Graziano Venanzoni (INFN- Pisa, Italy): First results from the Muon g-2 Experiment at Fermilab
Song-Ming Wang (Academia Sinica-Taipei, Taiwan): ATLAS: recent results and future perspectives
Matías Zaldarriaga (Institute for Advanced Studies – Princeton, USA): Effective Field Theory for Large Scale Structure
Contributed Talks:
Maria Eugenia Cabrera (Universidad de San Carlos de Guatemala): 2HDM singlet portal to dark matter
Joel Jones-Perez (Pontificia Universidad Catolica del Peru (PUCP)): Measuring sleptons at the ILC
Andre Lessa (CCNH, Brazil): Learning the Next Standard Model from LHC data
Diego Alejandro Restrepo Quintero (Universidad de Antioquia, Colombia): Effective Dirac neutrino masses
Arturo Sanchez (LAPP / CNRS, Switzerland): Current trends in distributed Open Sciences in HEP
Iván Sidelnik (Instituto Balseiro, Argentina): LAGO: the Latin American Giant Observatory, current status, projects and future perspectives.
Daniel Tapia Takaki (University of Kansas, USA): The Inter-American Network of Networks of QCD challenges
Javier Solano (Universidad Nacional de Ingeniería, Peru): LA-CoNGA physics: an open science education collaboration between Latin America and Europe for High Energy Physics
Posters
1 – Miguel Bonnett Del Alamo (PUCP): Benchmarking Geant4 particle detection with CMOS technology – Video – Poster
2 – Ricardo Gaitan (Universidad Nacional Autónoma de México): Neutrino masses in a model with left-right symmetry and mirror fermions – Video – Poster
3 – Francisco Artur Pinheiro Alves Júnior (Universidade Federal do Vale do São Francisco (UNIVASF/ Campus Serra da Capivara)): Revisiting Kleinnian Relativity – Video – Poster
4 – Jessica López (Benemérita Universidad Autónoma de Puebla): Generalized Dark Matter in Compact Groups – Video – Poster
5 – Jose Halim Montes de Oca (FESC-UNAM): Mirror fermion as dark matter candidate – Video – Poster
6 – Tiberio Pereira (UFRN/DF): The impact of higher-modes into binary black hole parameter estimation with numerical waveforms – Video – Poster
7 – Huan Gabriel Moreira Souza (Programa de Pós-Graduação em Física, Universidade Federal do Pará): Universality of gauge coupling constant in the Einstein-QED system – Video – Poster
Registration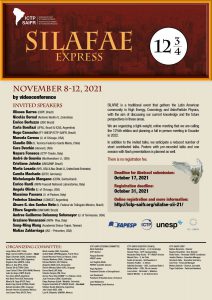 Online registration is now closed
Photos
Program
Videos and Files
2021-11-08
2021-11-09
2021-11-10
2021-11-11
2021-11-12
Additional information
Contributed talk: If you were accepted to present a short talk,  please prepare a 15 min presentation (12 min talk + 3 min questions).
Poster: If you were accepted to present a poster, please send a pre-recorded video presentation of your poster (at most 5 minutes) to thiago@ictp-saifr.org before November 5, 2021.