Workshop on Sociophysics: Social Phenomena from a Physics Perspective


October 18-22, 2021 (by videoconference)
Zoom information will be available here a few days before the workshop
ICTP-SAIFR, São Paulo, Brazil
Home
The application of techniques of statistical (and other areas of) physics to understand the dynamics of social systems is currently one of the hottest topics in the study of complex systems. The so-called Sociophysics has attracted the attention of a large number of scientists from areas such as physics, computer science, and mathematics, as well as the humanities.
This meeting will bring together physicists and other scientists from all over the world to focus on open issues in social modelling and to identify the new directions in which this interdisciplinary field is evolving.
There is no registration fee.
Topics:
Opinion dynamics
Fake news and rumor spreading
Human crowd dynamics
Culture evolution
Emergence of revolutions and terrorism
Social networks formation and coevolution
Dynamics of urban agglomerations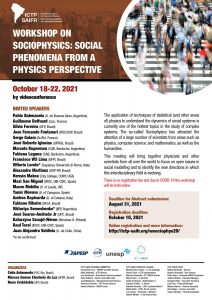 Click here for online registration
 Abstract submission is closed
Registration deadline: October 10, 2021
Organizers:
Celia Anteneodo (PUC-Rio, Brazil)
Marcos Gomes Eleuterio da Luz (UFPR, Brazil)
Nuno Crokidakis (UFF, Brazil)
Invited Speakers
Pablo Balenzuela (Universidad de Buenos Aires, Argentina): Analyzing mass media influence using natural language processing and time series analysis
Guillaume Deffuant (Lisc, France): Group dominance or group hierarchies emerging from interplay between gossip and group prejudice
Silvio Ferreira (UFV, Brazil): Echo chambers in Twitter debates on political debates in Brazil
Jose Fernando Fontanari (IFSC/USP, Brazil): Wisdom of crowds: much ado about nothing
Serge Galam (SciPol, France): What was right with my failed prediction of a 2020 second Trump victory?
José Roberto Iglesias (UFRGS, Brazil): Growing inequality and wealth redistribution
Marcelo Kuperman (Centro Atómico Bariloche, Argentina): The destructive effect of human stupidity: a revision of Cipolla's fundamental laws
Fabiana Laguna (Centro Atómico Bariloche, Argentina): Optimal risk in a wealth exchange model: Agent dynamics from a microscopic perspective
Francisco WS Lima (UFPI, Brazil): Majority-vote and Biswas-Chatterjee-Sen model on Complex Networks
Alexandre Martinez (USP-RP, Brazil): Thermodynamics applied to game theory: study of the risk associated with cooperation in the Public Goods Games
Hernán Makse (City College, CUNY, USA): How network theory and contact tracing can help to stop the Covid-19 pandemic
Maxi San Miguel (IFISC, UIB-CSIC, Spain): Coevolution dynamics of opinion and social network
Mauro Mobilia (University of Leeds, UK): How does homophily and heterophily shape the topology of preferred-degree networks?
Yamir Moreno (University of Zaragoza, Spain): TBA
Andrea Rapisarda (University of Catania, Italy): Investigating the role of talent and luck in getting success
Fabiano Ribeiro (UFLA, Brazil): The Physics of Cities
Viktoriya Semeshenko (IIEP, Argentina): The Network Structure of Inter-Industry Labor Mobility in Argentina
José Soares-Andrade Jr (UFC, Brazil): Cracking urban mobility
Katarzyna Sznajd-Weron (Wroclaw University of Science and Technology, Poland): "Private Truths, Public Lies" within agent-based modeling
Raul Toral (IFISC, UIB-CSIC, Spain): The biased voter model
Juan Alejandro Valdivia (Universidad de Chile, Chile): The complex traffic in cities under route optimization … an example of transport over complex networks
Registration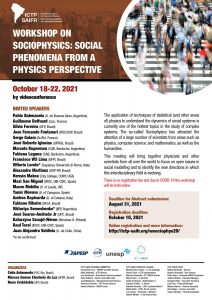 Click here for online registration
Abstract submission is closed
Registration deadline: October 10, 2021
Preliminary Program
Workshop Program: PDF updated on September 23, 2021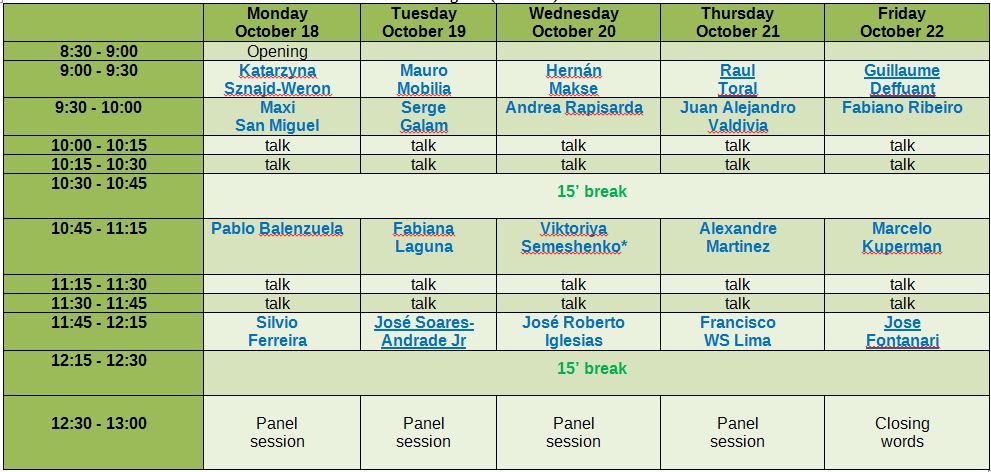 Photos